$110.50
Fancy Stunt Motorcycle Toy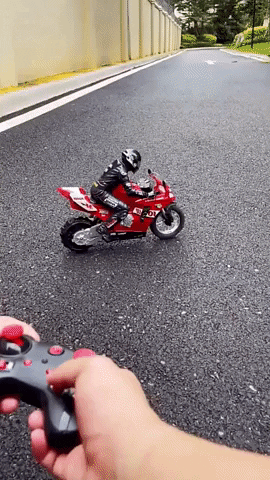 Self-stabilized and balanced through rubber balance rear-wheel traction control, subverting traditional remote control motorcycles.
Uses traction smart wheels, through 16 rubber side wheels, it can realize 360\u00b0 drift in situ, single wheel standing sideways movement, full of sense of technology.


Removable design for motorcyclists.
The product uses rubber bags to inject the wheels, driving more stable and more wear-resistant.
The independent suspension system for front and rear wheels makes high-speed driving more stable.
The body is designed to fold and store the tripod, which is more convenient and realistic.
The product adopts a 6-axis gyroscope to detect attitude, making the balance more stable and control more simple.
Cool lighting functions: LED headlights in the front, LED headlights in the rear, and scene lights in the bottom of the car.
The product has an indoor/outdoor mode switch, select the driving mode according to the size of the field.
The product has a terrain mode switch function, and the driving mode is selected according to the outdoor driving terrain.
Large capacity battery, which can be flexibly replaced, making the battery life longer and more convenient.
Safety function: anti-lock tilt function, low voltage alarm function.

Description
Body size: 350mm * 144mm * 263mm
Body ratio: 1: 6
Applicable age: over 14 years old
Control method: remote control
Applicable environment: indoor/outdoor Product
material: plastic, metal, alloy
Balance method: a system of rubber wheel traction control
Color: Blue Red
Simulation sound: Yes
Remote control battery: AAA 1.5V * 2 (not included)
Working frequency: 2.4G
Bodyweight (including battery): 1000g
Parameters Battery: 7.4v 1200mah (replaceable)
Charging time: about 120 minutes
High-speed battery life: about 60 minutes
Single wheel battery life: about 210 minutes
Speed: 3 meters per second
Control radius: about 60 meters
Gyroscope: 6-axis built-in gyroscope Shock
absorption system: independent suspension for the front and rear wheels
Working temperature: 0 -40 \ u00b0

Packing list:

Motorcycle * 1
Remote control * 1
Manual * 1